The first watch concept signed DeWitt, a contemporary art object, confers a new dimension to the watchmaking world. WX-1, is both a Watch Concept and an objet d'art and highlights the creativity of the House of DeWitt.
Technicals specifications +
Discover price +
CHF

780'000.00 (Excl. VAT)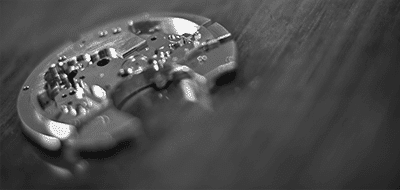 Case
Materials
18-carat rose gold and titanium
Water resistance
30 meters
Calibre
Movements
Mechanical, in black anodized lithium-aluminum
Functions
Hours, Minutes displayed by rotating discs
Design
Buckle
Rose Gold Pin buckle
- WX-1 -
Material
The performances of this technological thoroughbred also relate to the materials chosen for its construction, governed by the criteria of lightness and resistance. All the parts composing the supporting structure of the WX-1 movement – mainplate and bridges – are made from an aluminum-lithium alloy. The movement weighs no more than 27 grams in all. The case of the WX-1 asserts its powerful personality, echoing the sophisticated micromechanical feat of engineering inside. Composed of 370 parts, its highly complex construction testifies to an entirely novel approach. This high-tech architectural construction combines 18 ct rose gold. As well as grade 5 titanium and eloxed aluminum, both materials known for their extreme qualities and together weighing just 191 grams! One would normally expect a case of this stature to weigh around 600 grams.
See more...
See less...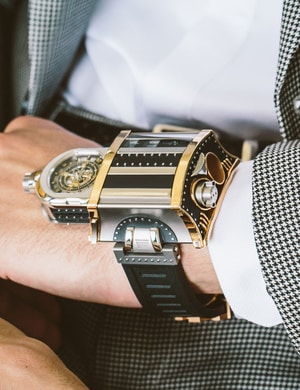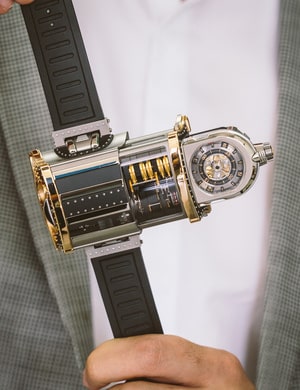 - WX-1 -
Movement
An authentic machine representing several contemporary worlds, the pulsating heart of the WX-1 is equipped with a vertical flying tourbillon with a carriage performing one revolution per minute and visible through a cylindrical "chimney" located on the back of the case. The mechanical hand-wound movement has a total of 458 parts and comprises a parallel going train with five barrels ensuring a 21-day (approximately 504-hour) power reserve. The parts making up this "competitive racing" engine – barrels, gear train, tourbillon carriage, power-reserve indicator, and winding device – are all arranged in vertical order. The power reserve is displayed by a coaxial roller, while the time of day is read off on two rotating discs. The first, showing the minutes, turns in a clockwise direction, while the one displaying the hours turns counterclockwise by means of a clever gear system mounted on six runners.
See more...
See less...
- WX-1 -
Manufacture
WX-1, both a Watch Concept and an objet d'art, highlights the creativity of the House of DeWitt. This exceptional creation embodies a range of cultural values merging design, futurism, sophisticated construction of its various elements, and an original interpretation of time read-off. Time and Creation, mental architecture, and spatial construction, united in a vision of tomorrow… DeWitt is consistently guided by a philosophy of doing things differently. The original concept was apparently quite simple: creating a watch that was different from and indeed far more than a watch. How could one best marry authentic technological innovations and advanced aesthetics? The result of the conceptual approach had to be unprecedented, technical, and highly exclusive, so as to assert itself as the embodiment of contemporary watchmaking art.
See more...
See less...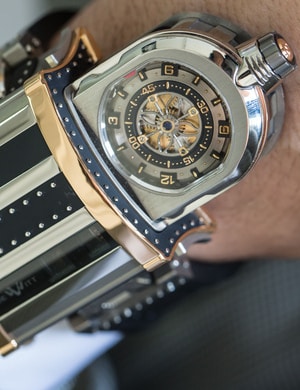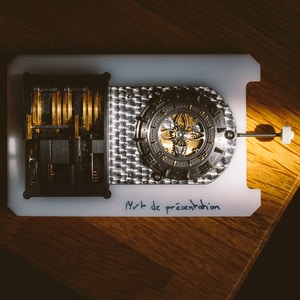 - WX-1 -
Discover Price
CHF

780'000.00 (Excl. VAT)

Should you need information about a model, encounter an issue with the site
or your watch, want to personalize your watch or be presented a model to you,
you can contact at any time a personal concierge.
You
might love

these models